Unleash Your Future: SAP BTP Executive Summits Powered - Where Innovation Meets Opportunity
Ensuring future viability is of paramount importance for any business entity. The aspiration is universal – a desire to accelerate innovation, enhance agility, and promptly respond to shifts, propelling the advancement of enterprises at an unprecedented pace.
Introducing the SAP Business Technology Platform Executive Summits – exclusive one-day gatherings meticulously crafted for executives seeking comprehensive insights into their applications, processes, and data. These summits facilitate innovation and automation, leading to heightened productivity.
Experience
Encounter a stimulating keynote address by the world's top-ranked futurist, challenging assumptions and sparking imagination.
Immerse themselves in two distinct tracks of innovation-centric breakout sessions, delving into topics such as data and analytics, artificial intelligence, application development, enterprise automation, integration, and more.
Learn. Understand. Connect
Crave InfoTech is a global leader in Business Technology Partnership (BTP), excelling in extensibility, integration, sustainability, and robust solution development. With a history of innovation, we redefine BTP and offer:
SAP Build Capabilities
Our mastery in Build App Development delivers tailored solutions. Unveil efficiency-boosting Process Automation via iRPA and Workflow. Introduce Work Zone for elevated task management capabilities.
Extensibility
By deploying Side by Side Extensions, businesses achieve adaptive solutions, while ABAP on BTP boosts functionality. CAPM streamlines project management, and HANA Data Science drives advanced insights.
Integration
Effortlessly connect systems through PI_PO to Integration CI Assessment. Execute seamless PI_PO to Integration CI Migration for cohesive landscapes. Navigate Web Method/MQ Series/Dell Boomi to Cloud Integration Migration. Transition smoothly from Neo to CF (Cloud Foundry) architecture. Streamline processes by migrating from Ariba ITK to CI.
SAP Analytics
Elevate analytical capabilities by transforming BPC to Planning. Transition from BI_BO to SAC for advanced insights. Utilize AI, ML, and Predictive Analytics for data-driven decisions.
Sustainability Integration
We enhance sustainability by infusing eco-consciousness into our solutions. Drive environmental goals via tech-driven initiatives, providing clear energy consumption insights for efficient decisions.
Come See How to be Future-Proof
Customer Presentation
Live Demos
Hackathon Winner Showcase
Industry Use cases
Track 2: Achieve Enterprise-Wide Integration to Meet Business Challenges | 01:30 PM | Both Locations
Come hear CommScope's lead for business transformation and integration and how they incorporated a large acquisition to meet critical business challenges by integrating heterogeneous system landscapes. Learn how an integration platform as a service addresses a broad range of hybrid environments with a modern integration architecture designed to manage APIs, processes, data, and events and support enterprise workloads.
Speaker:
Yan Guan, Senior Manager, Chief SAP Architect, CommScope
These Roundtable sessions will discuss SAP updates, Customer-led journey discussions, Open Discussions, and Q&As. We will be there to discuss & moderate SAP BTP Technologies, especially on Keep Core Clean through SAP BTP Integration Suite.
Make sure to join us here:
West: 15 Sept 2023 | 09:00 AM | SAP R&D HQ, Bldg-2, 3412 Hillview Ave. Palo Alto, CA 94304
East: 22 Sept 2023 | 09:00 AM | SAP Americas HQ, 3999 West Chester Pike, Newtown Square 19073
West Coast
Shrikant Nistane
Alex Pohorily
Account Executive, Crave InfoTech
Demetri Christian
SAP BTP Solution Architect, Crave InfoTech
Meet the Team in Mountain View
East Coast
Shrikant Nistane
Jason Johnson
Client Services Director, Crave InfoTech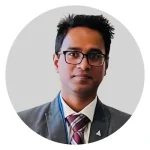 Manish Meshram
SAP Solution Architect, Crave InfoTech
Ashwin Katkar
SAP BTP Architect, Crave InfoTech
Meet the Team in Philadelphia
Date: Thursday, September 14, 2023
Location: Computer History Museum, 1401 N. Shoreline Blvd. Mountain View, CA 94043
Date: Thursday, September 21, 2023
Location: The Franklin Institute, 222 North 20th Street, Philadelphia, PA 19103