The Diversity Alliance for Science (DA4S) has been a pioneer within the life science industry as it heralds an age of inclusiveness and diversity to empower the industry from within. This year's conference circuit, including the East Coast Conference in New Jersey (2nd – 4th May 2022), would mark their 15th successful year.
Crave InfoTech has been long-term associates with DA4S and has leveraged the latter's platform to connect and engage with multiple life science veterans. We can say, without doubt, that DA4S is very true to its mission statement.
"Provide a platform to identify, attract, and develop small and/or diverse businesses to drive inclusive procurement practices in corporate, academic, and governmental entities within the life science and healthcare industries."
Innovation and development in life sciences with DA4S and Crave
The life science industry has been through a whirlwind of innovation and development. The research and development timelines, through the vaccine dev phases, had spectacularly reduced by 75-80% without compromising on quality and efficacy.
How did this happen? It happened because some of these life science companies had the tech and enterprise solutions in place that allowed such agility and scalability.
It doesn't happen overnight. It's a process that follows an initial vision and buy-in from the leadership team. Once the heads of the company understand the value of automation, digitization, accountability, and real-time compliance control, then real enterprise growth can commence.
There are many steps between T0 (starting point) to T100 (predictive maintenance and automation levels). DA4S brings together companies that are at different steps ranging from T0 to T100. They combine their learnings, challenges, and solutions to effect collective change within the life science industry.
Crave InfoTech has been working with multiple life science companies, successfully guiding them through to 100% compliance and 35% efficiency boost. We also help them reduce overhead costs, eliminate data-capture errors, and enable real-time process visibility.
We will talk more about this at the end of the article.
Diversity and inclusiveness in the life science industry with DA4S
This 15th year of DA4S is going to be one of reflection and learning. The life science industry has evolved over the past 2 years, and everyone is coming to the event with their notebooks full of insights.
DA4S would be headlined by multiple industry veterans and the top-echelon life science companies. Each would bring a unique viewpoint to the event. Central to all of them would be the keynote speaker.
Dr. Moogega Cooper, Planetary Protection Lead (Mars 2020 Mission), NASA's Jet Propulsion Laboratory!
Dr. Cooper has been quintessential to the Mars Perseverance Rover landing on 18th February 2021. Her work to ensure compliance of the spacecraft in terms of sterilization and safety within the environment of Mars. She has also received multiple awards like NASA's Early Career Public Achievement Medal, Charles Elachi Award for Exceptional Early Career Achievement, and JPL Voyager Awards for Technical Leadership.
Crave InfoTech at DA4S – Interactions and Engagements
Crave InfoTech has been revered and advocated by our long-lasting life science clients. The reason for the longevity of our solutions within the life science industry is the exact fitment and smart process workflows. The pre-loaded workflows ensure fast deployment, high and easy adoption, quick value realization, and better process efficiency.
The managers and users don't have to worry about fitting their business case into the available tech. Crave fits the tech into your business use case, in your language, pre-loaded with your asset standard operating procedures for fluid maintenance and calibrations.
We would be showcasing our out-of-box packaged products along with our enterprise solutions and mobility enablement at the Diversity Alliance for Science (DA4S) East Coast Conference in New Jersey.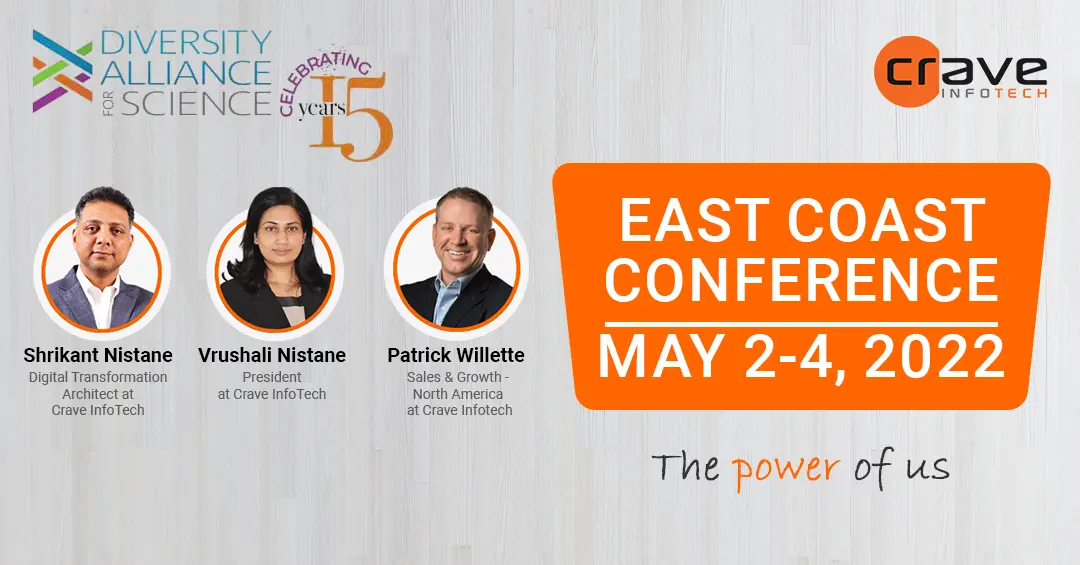 How to become 100% compliant?

Get ahead of regulatory issues and become 100% FDA compliant with Crave InfoTech. Simply follow automated workflows and in-scan bar codes for zero-error data capture. Every action is tracked, recorded, and ready for approval.
How to increase asset availability?

Improve overall asset lifecycle value by increasing field inspection efficiency, overall wrench time, and reducing downtime. What's more? Crave ensures fast and accurate deployment, with quick value realization and high adoption rates.
How to improve asset calibration?
UI-optimized workflows to ensure fine-tuned equipment and asset calibration processes. Proper calibration planning and execution mean that your field technicians are always ready with the right tools with the right info for perfect calibration.
If you want to jump in here and get in touch with us… well, that would indeed be a great idea!